Harrison Pond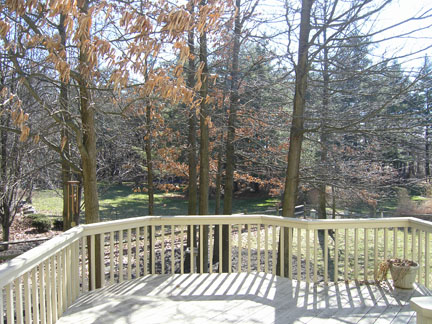 1342 Bingham Mills Drive
New Albany,
OH
43054
Price Range: $300,000 – $600,000
Square Footage: 2,000 – 6,000 sqft
Sq. Miles: 1.04
To Columbus: 14
Population: 2520
Harrison Pond Real Estate
Harrison Pond is a neighborhood of 600 stunning showcase homes, all of which feature private yards and mature landscaping. The neighborhood is centered around a large pond with fountains, a gazebo, and a leisure path that winds around the shoreline. At the eastern end of the neighborhood is Headley Park, which features 12 soccer fields, a softball diamond, and a playground. Additional community amenities include a community pool, pool house, and playground, as well as the Harrison Pond homeowner's association that sponsors events like play groups, races, and a community garage sale.
Key Features of Harrison Pond
The Homes
Harrison Pond homes reside in a beautifully landscaped and expertly managed community. Centered around a large pond with fountains, a gazebo, and a leisurely shoreline path, these stately properties boast private yards perfect for entertaining or quiet days at home. Elegant, expansive floor plans and modern kitchens with stainless steel appliances are among the deluxe features that define the award-winning homes.
The Amenities
Your community just got bigger at Harrison Pond! Enjoy summertime with a multi-lane pool, pool house, playground for the kids, ice cream, and movie nights. Pick up the perfect paperback to read at the Little Free Library. A unique feature are the frequent food trucks that bring tastes of the world right to your backyard. Adjoining at the eastern end of the neighborhood is Headley Park, which was recently refreshed with new equipment.
---
Find Homes for Sale in Harrison Pond
Attention Harrison Pond Homeowners!
Buyers are willing to pay a premium for homes in Harrison Pond. If you are even considering selling your home, we'd love to help you maximize your equity. Get started by requesting a free evaluation to see just how much your home is worth in Central Ohio's hot market!
The Details on Harrison Pond
Shopping and Dining
Between New Albany Square and StoneRidge Plaza, Harrison Pond residents will be well-stocked after a five-minute drive. The two centers offer everything from groceries to home goods, plus extras like salons and a movie theater. Nearby dining options include upscale American at Hudson 29 and coffee at Fox in the Snow.
Parks and Rec
New Albany Parks and Recreation maintains three main parks: Bevelhymer, Thompson, and Wexner. They offer a ton of activities throughout the year for youth and adults alike, including running clubs, wrestling, soccer, lacrosse, volleyball, basketball, and more! There's also seasonal programs like the summer movie series.
Local Schools
Residents of Harrison Pond are served by Gahanna-Jefferson Local Schools. The district's K-12 schools are located in eight buildings on one central campus. New Albany-Plain Local is the only district in Ohio where every school is designated a National Blue Ribbon School of Excellence by the U.S. Department of Education.
---
Ready to Find Home in Harrison Pond?
Total opulence awaits at Harrison Pond, and the Raines Group would love to help you buy or sell in this fantastic New Albany community. Get in touch with our team to schedule a showing of your favorite homes—we'd also be happy to provide a free home valuation if you're interested in selling a property in Harrison Pond.