Giving Back
First Annual Food and Toy Drive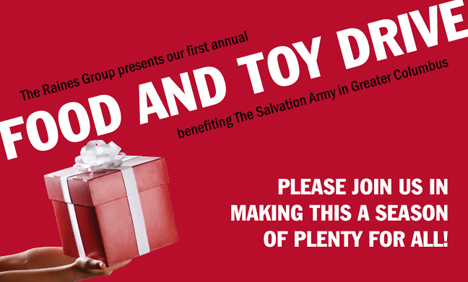 The Raines Group is proud to present our first annual food and toy drive benefiting The Salvation Army in Greater Columbus. We will be hosting a drop-off site where we will be accepting donations of non-perishable food items and new, unwrapped toys. Join us on Saturday, Dec. 6th and enjoy coffee, cider, and doughnuts!
Date: Saturday, December 6, 2008*
Time: 10am – 2pm
Place: The Raines Group/Real Living HER office
5207 Hampsted Village Center Way
New Albany, OH 43054
(Located in the Kroger Shopping Plaza)
* We will also be accepting donations throughout the week prior to the event, starting on Monday, December 1st. Our weekday office hours are 8:30am – 5:30pm.
Toy and gift donations will benefit The Salvation Army's Christmas Cheer program. All donations must be in brand new, unwrapped condition. Gifts for children ages 10 – 12 are especially needed.
Food donations will benefit The Salvation Army Choice Food Pantries in Greater Columbus. They welcome donations of needed food and personal items. The list below includes their needs in order of priority:
Priority 1: Bread and Cereal Items
Boxed cereal
Muffin and cornbread mixes
Oatmeal
Other grain products
Priority 2: Dairy Items**
Priority 3: Fruits and Vegetables**
Canned fruit (no peaches or applesauce, please)
Jelly
Fruit juices
Canned greens: turnips, kale, spinach, etc.
Canned potatoes
Priority 4: Meat and Beans**
Canned meats: Spam, salmon, chicken (no tuna, please)
Canned beans: kidney, pinto, butter, black, etc.
Priority 5: Miscellaneous Items
Side dish items: pasta or rice mixes, instant potatoes, etc.
Salad dressing
Dessert baking mixes
Snack items: chips, crackers, etc.
Laundry detergent, fabric softener/dryer sheets
** Please note that any perishable food items cannot be accepted at The Raines Group office, but can be donated directly to The Salvation Army Food Pantries. For more information, please visit
http://www.salvationarmycolumbus.org
.
We hope you'll join us in making this a season of plenty for all!